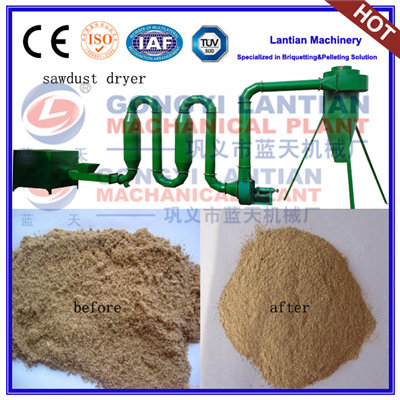 1.Description of Air-flow sawdust dryer
Hot air pipe dryer of the hot air impulse dryer, also known as pipeline dryer. It is charcoal production mechanism of the important equipment. Its work is characterized by the granular wet material into the hot air flow, with the flow, resulting in granular dry products. Its model is small, medium and large, our plant produce the latest development of the leading domestic drying equipment, which uses a secondary heating circulation system, enhanced heat and mass transfer rate, with automatic feed, hot air speed, air current materials Mixed fully, dry strength, small dust, short time, high thermal efficiency and high volume of wet material handling advantages. Material moisture at 40% can be a drying to achieve the system requirements, compared with other dryers (usually 2-3 times) to reduce the labor intensity.
Air-flow pipe dryer fuel is generally used in wood waste, waste wood, bark and coal. Can also be used in the process of carbonization of methane and carbon monoxide and other flammable gases can be treated by the same as the liquefied gas ignited for drying machine comprehensive budget, the annual fuel costs on the million. But also reduce the drying costs.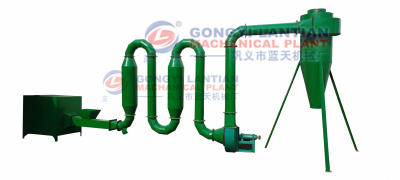 2.Raw material for Air-flow sawdust dryer
After drying the sawdust, use briquettes machine produce sawdust briquettes, carbonized the briquettes get BBQ.full product line include crusher-dryer-sawdust briquettes machine-carbonized stove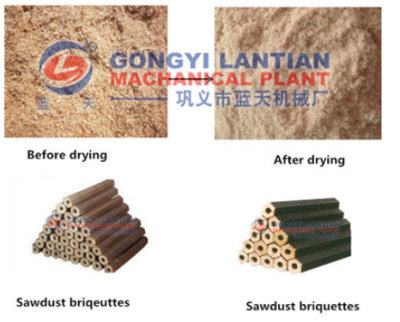 3.Parameters for Air-flow sawdust dryer

4.Load for Air-flow pipe sawdust dryer
LTD -S Model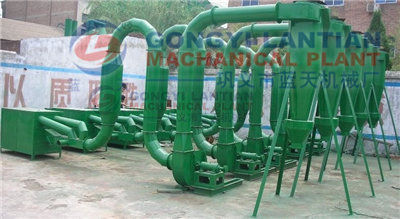 LTD -MA Model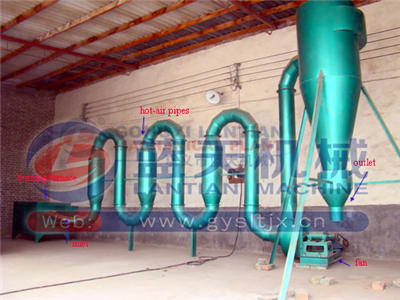 LTD -MB Model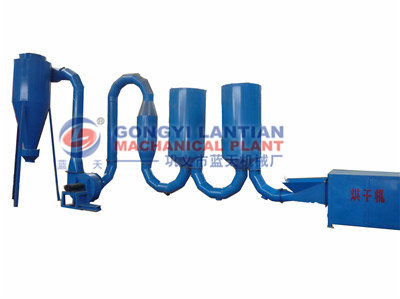 LTD -L Model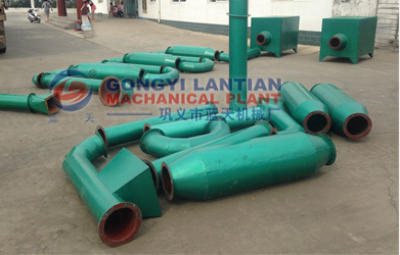 6.Character of Air-flow pipe sawdust dryer
1- Drying raw materials: rice husk, sawdust and crushed foam, branches, wood chips and other raw materials (diameter less than 3mm, length less than 5mm).
2-The production efficiency: hot air is 180 ℃, the relative humidity of 35% sawdust or rice husk drying to relative temperature of 10%.
3-Hot air temperature of not less than 180 ℃, up to 300 ℃.
4- The fuel can be used: wood (broken wood), coal, steam or electric heating.
7.Swift paper from different customer
After we sighed PI with customer, we will get 30% deposit,then we ready all the machine , after3-7 working days, machine will be finished, customer pay the left 70% money, once we get the bank swift, will contact shipper agent, load machine at once.
-Payment term: TT, West Union, L/C
-Price term:EXW ,FOB,CIF,DDU,DDP
-Delivery time:3-7Working days after getting deposit
8.Company information
Gongyi Lantian Machanical Plant was built at 80s, has more than 30 years manufacturer experience. We are Professional committed to the type of coal /Charcoal briquettes equipment, Hydraulic press machine ,Coal/hookah briquettes machine ,Ball press machine ,Drying equipment, Biomass extrude machine ,Crusher equipment,Carbonized equipment.All the machine has certification. Such as CE, ISO,CO, Form E,We are factory, has import and export rights,can export machine directly,no need trade company ,any question about machine quality and shipping problem, you can chat with us,all the sales understand English.